---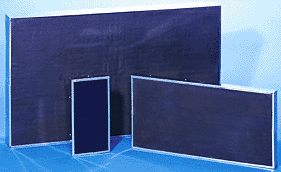 FP Flat Panel Heaters

FP Flat Panel Infrared Heaters are very efficient infrared heat sources in that as much as 80% of the applied energy is converted into radiant energy. Typical ratings are 10-15 watts per square inch. The FP Flat Panel Infrared Heater's advantage versus radiant elements such as quartz tube, metal sheath tubular and ceramic is the complete, wide area, uniform coverage provided. A broad range of standard sizes and ratings can form the modular base of a radiant heating system. Custom sizes and ratings can also be designed for special or unique applications. The standard material, Quartz Cloth, a cleanable Black Glass and extra-durable Stainless Steel emitter surfaces are available. Because of the rugged construction, FP Infrared Heaters are resistant to shock and vibration. No reflectors are required, eliminating maintenance requirements. Without insulation, the overall thickness is 1-1/2" - with insulation, 3". Thermowells can be installed near the surface for precise control of the sheath temperature. By controlling the sheath temperature, the wavelength can be matched to the specific absorption characteristics of the material being heated.
---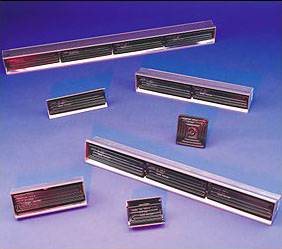 Black Body Ceramic Infrared Heaters

An efficient heat source for many industrial and commercial applications, the Black Body and Chameleon Ceramic Infrared Heater is available in an array of sizes and modules. Underwriter's Laboratories component recognition is available on many of the items shown. Parabolic or flat profiles, square, rectangular or round shapes, mounted in housings or panels, Black Body and Chameleon Ceramic Heaters can easily be installed and arranged to produce heat patterns limited only by the imagination of the designer.

---

Chameleon Ceramic Infrared Heaters
Ogden Chameleon Ceramic Infrared Heaters are available in many of the standard sizes and ratings as Ogden Black Body Ceramic Heaters. The feature is a unique coloring that changes from yellow to brown when processing temperature ranges are reached. This provides a visual indication that a heater is operating. In large radiant panels or ovens, where hundreds of heaters might be installed, it is possible to determine items not working by the color of each element. If an item has returned to the original yellow color, replacement is necessary. A-1 Chameleon elements can be mounted in any of the "A" Series housings, or can be used in custom panels.


---
HR Radiant Process Heaters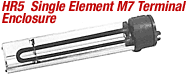 HR Radiant Heater assemblies are Incoloy® 840 sheathed tubular heaters mounted in an aluminum housing with a reflector to provide a uniform band of radiant heat to the surface. Ideal for applications where high velocity air is not practical, such as conveyorized drying, thermoforming, ink drying, drying tunnels, shrink fitting, thermography, resin curing and wafer drying.

Broad beam - for use as a surface heating medium.


Break, splash, shockproof metal sheath heating element - extruded aluminum housing.


Absorbed easily by all colors, clear glass, plastics, transparent solids and liquids.


FAR Infrared - Long invisible radiant wave length (2.5/3 microns).


Typical work range to 500°F, practical maximum to 900°F.


For outdoor or hazardous locations specify M7 Terminal enclosure.

---
Quartz Radiant Process Heaters


Clear red color on translucent quartz tube at optimum design


Infrared wave length at energy peak of 2.5/3 microns


Quick heat and cool response


80% of rating in 20 seconds, 100% full heat in 40 seconds


Designed for horizontal use


Standard diameters: 1/2" and 5/8"


Standard watt density: 35-40


Lengths to 60", consult Ogden for longer lengths


Special ratings or applications


Mounting hardware available
---
Modular Quartz Heater Assemblies

A resistance wire helix is enclosed in a small diameter quartz tube and mounted in a special housing. The two sizes are designed to be installed in the same dimensional spacing as the Ceramic Infrared elements. Quick temperature response is the Modular Quartz Heater Assemblies' advantage.


---
Golden Ray Quartz Radiant Process Heaters
An applied gold exterior reflects the radiant energy produced by the Golden-Ray Quartz Radiant Heaters through the opening area only. The produced radiant energy is directed to the process, improving element efficiency by as much as 22%, testing has shown. Energy cost savings are realized. Reflectors are often not needed. Surrounding work area temperatures are cooler. The size of the opening can be varied as illustrated to control the direction and width of the Golden-Ray's energy output and intensity to the process. Golden-Ray Quartz Radiant Heaters feature quick heat and cool response, a 2.5 - 3 micron wave length at peak energy and are designed for horizontal use only. Then decide the appropriate Golden-Ray opening for the particular process.


---
Quartz Lamp Infrared Heaters

The most recent addition to the Ogden infrared product line is the QRH1 Quartz Lamp Infrared Heater. Translucent fused quartz provides the most efficient heat transfer capability and the quickest responding radiant heat source available. A tungsten filament is centered in a hermetically sealed quartz tube and insulated with an inert gas. Peak wave length is 1 - 1.5 microns, in the near band of the electromagnetic spectrum. The element temperature is 4000°F and very bright when in operation. Faster process speeds are possible compared to other infrared heat sources. Heat-up and cool-down are especially quick. QRH1 Quartz Lamp assemblies include an easily installed, rugged aluminum housing with a polished reflector.