---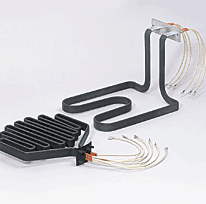 Mighty Blade Process Heaters

The flat shape of the Mighty-Blade provides greater surface area inch for inch of length than round elements. With the Mighty-Blade, equipment can he designed with more wattage in less linear space than with conventional elements. Or, by replacing an existing tubular heater with a Mighty-Blade of the same length, the watt density is significantly reduced. In immersion applications the narrow profile increases natural convective flow of materials being processed, resulting in lower sheath temperatures and improved heat transfer to the process. Materials being processed are less susceptible to degradation. In processes where these considerations are not as critical, watt densities can be reasonably increased. The .275" x 1" dimension creates anti-corrosion, self-cleaning effects that significantly extend the Mighty-Blade's useful life by not allowing the collection of foreign materials on the sheath. The multiple coil design permits an individual element the flexibility to be wired at the installation in single phase, three phase, three heat or dual voltage. The Mighty-Blade can be used in virtually any immersion, clamp-on, forced air or radiant heating application.
---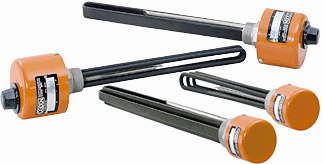 Pipe Plug Immersion Heaters

Tubular heaters or Mighty-Blade elements are brazed or welded in a brass, steel or stainless steel pipe plug. Ratings from 350 watts to 38kw and numerous variations and options are available. Pipe plug immersion heaters are generally used in small to medium size containers at pressures up to 3000 psi and are screwed directly through a threaded opening in the tank wall.

---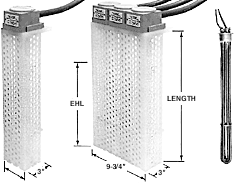 Quartz Immersion Heaters

Designed for most plating and acid finishing solutions*

Lightweight, portable

Positive grounded metal sheathed element

Stress relieved polypropylene guard

Standard thermo-fuse cuts power to the
heater in the event of an over-temperature
condition.

Replacement fuses are available:
QPL opens at 220°F (105°C)
(supplied unless specified)
QPM opens at 265°F (130°C)
QPH opens at 330°F (160°C)
---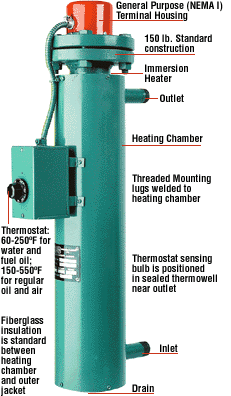 Circulation Heaters
Compact and efficient, circulation heaters may be used in forced or natural circulation systems to heat flowing gasses or liquids. Pipe plug or Flanged immersion heater, vessel, insulation, terminal enclosure, mounting brackets and inlet and outlet connections are included. Installation is simple with only basic wiring and piping connections required. An integral thermostat is included on Series 1, 2, 3, and 5 items. An installation and maintenance manual is supplied with each Circulation Heater.









---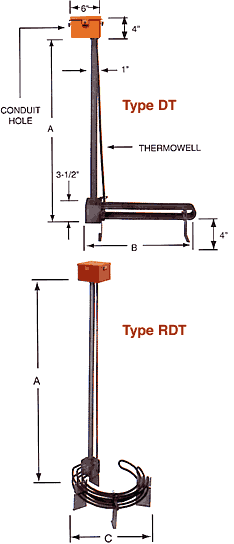 DT and RDT Over-the-Side Immersion Heaters
Used in tanks where through-the-wall heaters cannot be installed, portability is required, or where heaters must be removed for cleaning without emptying the tank. Suitable for freeze protection, for heating viscous materials to improve flow, or most open tank applications with proper sheath and watt density selection.

Lightweight and portable


Self supporting


All compatible materials
- Stainless steel elements; stainless steel riser and
junction box
- Incoloy elements; stainless steel riser and junction box
- Steel elements; steel riser and junction box


Watertight terminal housing with terminal block for wiring

Thermowell for installation of thermostat


Sludge legs


.475" diameter elements

Options:


Built-in thermostat: 60-250°F, 15-120°C or 150-550°F


Explosion resistant terminal enclosure


Shorter or longer riser height


Special ratings or materials


Right angle risers


Passivation or other external finishing


Thermocouple for process control or high limit


Mighty-Blade elements


---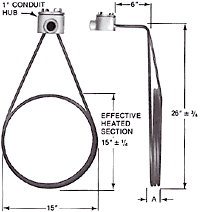 OT Over-the-Side Immersion Heaters
Depending upon sheath material and watt density considerations, OT Immersion Heaters can be used to heat many various solutions.



Easily installed or removed for cleaning, inspection or moved to improve heat distribution


Narrow profile to allow maximum work space in tank


Moisture/explosion resistant terminal enclosure


Optional cord and plug


Specify passivation or other external finishing if required

---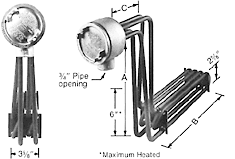 OS Over-the-Side Immersion Heaters

Generally constructed for salt bath heating at low watt density - Incoloy sheath


Easily removable


Low profile element height (Sludge legs available)


.475" diameter element


Moisture/Explosion resistant terminal enclosure


---

Pipe Insert Heaters

Designed for heating viscous fluids. Typically mounted in a pipe near the bottom of a tank to heat the air space inside the pipe. The pipe surface then serves as a low
intensity heat transfer surface, heating the material without carbonization.


2" NPT Steel Screw Plug


.430" diameter Incoloy elements


Epoxy sealed terminals


Spacers every 18" (or as specified) keep elements from coming in contact with pipe


Moisture/Explosion resistant terminal enclosure
---

Flanged Immersion Heaters

Tubular heaters or Mighty-Blade elements are brazed or welded into a standard pipe flange. 3", 4", 5", 6", 8", 10", 12" and 14" are standard sizes. Flanged immersion heaters are used in large capacity vessels, in high pressure applications and are installed by bolting the unit to a matching flange welded to the vessel wall.



150 Ib. ASA carbon steel flange from 3" to 14" sizes


.475" diameter copper, steel, stainless steel, Incoloy tubular elements, or .275" x 1" Incoloy Mighty-Blade elements


90, 45, 30, 22, 15, 13, 8 and 6.5 watts/square inch elements for various processes


General purpose, moisture or explosion resistant terminal enclosures


Thermowell for 3/8" diameter thermostat bulb


Tubular element bends are repressed after forming to extend element life
---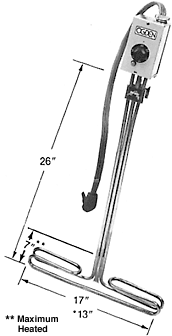 Sink Sanitizer Immersion Heaters

Used for sterilization of water tanks in restaurants or laboratories


Lightweight/Portable


Stainless steel or nickel plated copper element


60 - 250°F or 15-120°C Thermostat


.475" diameter element


Manual reset thermal cut-out


4 foot cord set with polarized plug


Adjustable mounting bracket

---

Boiler and Water Heaters

Square steel flanged immersion heaters are direct replacements for standard water heater, boiler and water storage equipment. Incoloy elements are brazed or welded to the flange, providing the best protection against stress, corrosion and contamination. The high watt density allows rapid heat transfer to the process. Epoxy seals provide moisture protection for the elements.

---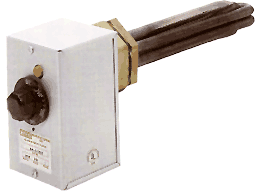 Dishwasher Heaters


Designed for use in wash and rinse compartments of
commercial dishwashers

2" NPT Brass screw plug

3 Stainless Steel elements

60°-250°F or 15-120°C Thermostat

Listed under U.L. Standard 499

Epoxy sealed element

Manual reset over temperature cut-out switch for low water protection

Thermowell nicrobrazed to element for protection

Pilot light indicates when set point is reached

Supplied with lock-nut, washer and gasket for mounting in thin wall tanks for best
positioning

Approximately 50-56 watts/sq. in.
---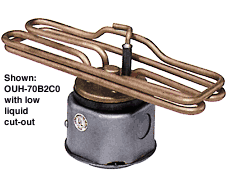 Bottom Mount Immersion Heaters

For use in coffee urns, steam tables, humidifiers, sterilizers,
kettles or any other container designed to mount the
heating element through the base.

Brass flange

5/16" diameter element

Copper Sheath

Stainless Steel construction available

Low liquid level cut-out available
---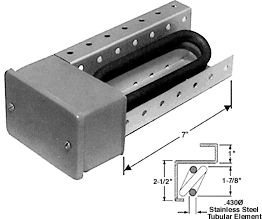 Enclosure Heaters
A stainless steel tubular element surrounded by a perforated protection and mounting bracket is designed to prevent humidity or moisture accumulation in electrical and mechanical enclosures. These items are also used to maintain temperatures in control cabinets within operating ranges of electronic equipment. Typical applications are traffic signal boxes, switch gear, cabinets, control panels and ATM's.
---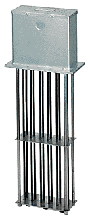 Duct Heaters
Installed in forced air ducts, these units supply constant heat for industrial processes requiring air temperatures up to 750°F / 400°C. Construction features include heavy gauge mounting flange, insulated terminal enclosure and easily replaced heating elements. Typical uses include forced air dryers, core drying, heat treating, annealing and other high temperature applications.